Product Name: Manure Separator
Manure Separator
Pig Manure Separator
Cow Manure Separator
Product description: Manure slurry Separator
Product details
Pig/Cow/Chicken Manure Slurry separator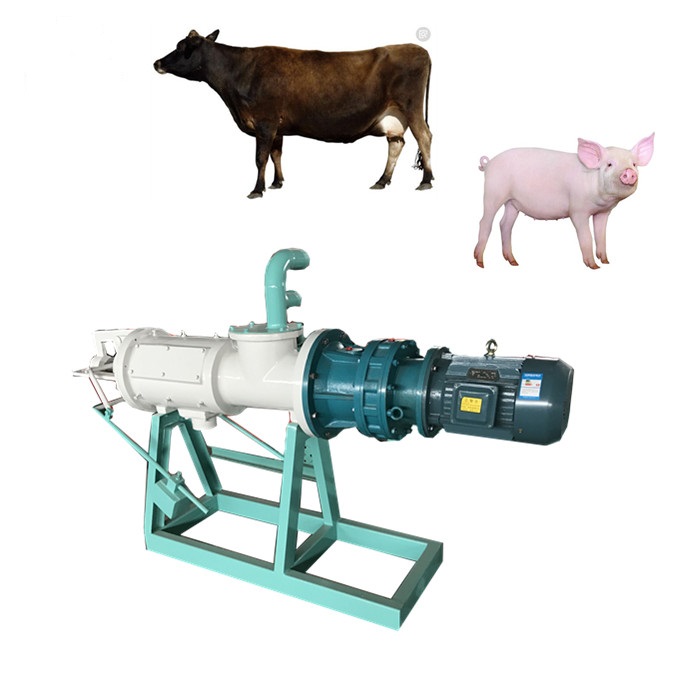 Application:The machine is widely used in industries as municipal and industrial
waste water treatment,food processing, pharmaceuticals and chemicals, etc.
Function:The machine use the pump to pull the fowl manure, cow dung,into
dewater equipment,the material through the screen and then press by the screw
,the rotary speed of the machine can reach 45r/min,within the press of the screen
and high rotary speed,the material will be dewatered by the machine,and the
water will enter into the pool through screen.
Working Principle of pig manure solid liquid separator
Separation takes place in a horizontal cylindrical bowl equipped with a scroll conveyor.
The processing material is fed into the bowl through a stationery inlet tube and is
smoothly accelerated in the accelerate chamber. Centrifugal forces cause instant
sedimentation of the solids on the wall of the bowl. The conveyor rotates in the same
direction as the bowl, but at a different speed, thus moving the solids towards the
conical end of the bowl.
Technical parameters of pig manure solid liquid separator
Model

Power

Voltage

Rotary speed

Working capacity

Weight

Water pump

FR-180

5.5kw

380v

43r/min

Cow manure:4-6m³/h

Pig manure:8-12m³/h

Chicken manure:2-4m³/h

650kg

3kw/1450r/min

FR-260

7.5kw

380v

43r/min

Cow manure:7-10m³/h

Pig manure:15-20m³/h

Chicken manure:5-7m³/h

750kg

4kw/1450r/min



screw separators offer a wide range of specifications and options to allow installation
in a wide range of applications:
Livestock Slurries

Green Bedding production

Pulp & Paper industry

Food Processing

Biogas / Anerobic Digestion

Abattoirs and Meat

Processing
Advantage:
Squeezes water out of liquid manure
Separates solids into piles of dry solids
The only separator that works with thick slurries and dilute wastewaters
Cleaning every 3–4 months only
Meets environmental effluent standards
Reduces solids content of manure
Reduces size of new pits and lagoons
Reduces pollutant nutrient content
Re-use solids for bedding
Re-use liquids for flushing
Recycle solids for refeeding
Prolongs life of existing lagoon
Minimizes cost of hauling waste
Improves biological treatment
Minimizes odor
Reducing field spreading acreage
Solids moisture content; 45–60%
Welcome to contact us if you have any questions: sludgedewater@gmail.com